Thu., May 2, 2013, 3:54 p.m.
Common Core Splits Right Wing
Idaho's two Republican U.S. Senators are split on the topic. But in April, the Republican National Committee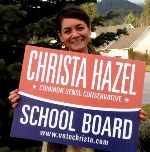 unanimously passed a resolution condemning the Common Core, saying it "fits the country with a nationwide straitjacket on academic freedom and achievement." The RNC's decision disappointed Coeur d'Alene school board candidate Christa Hazel, who, along with Tom Hearn, support the standards. Hazel calls the Common Core the most pressing issue of the May 21 school board election. "If that's the way the RNC is going, all I can say is I don't know what [current and former Republican governors] Butch Otter, Mitch Daniels, Chris Christie, Bobby Jindal, and Jeb Bush would have to say about that," Hazel says, noting they all support the Common Core/Daniel Walters, Inlander. More here.
Question: The battle over Common Core sounds to me like a fight between the center-right wing of the Republican Party and the Tea Party wing. Aim I tracking correctly on this?
---
---