Thu., May 2, 2013, 8:42 a.m.
Love Story: Comics Won Him Over
It wasn't her eyes or her smile that captured his heart – it was her comic books. Sixty years ago, Laurie and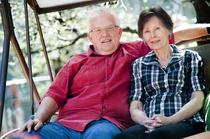 Sheri Zapf met in the third grade in Spearfish, S.D. Laurie was passionate about comic books and Sheri had a great collection featuring the superheroes and cowboys he admired. He'd just moved from Canada. Sheri reported the news to her mother, "There's a fat boy at school, and everybody is picking on him," she said, "but I'm going to be nice to him because I like him." Laurie chuckled at the memory. "She was nice alright. But she had the best comic books. That was a real turn on!"/Cindy Hval, SR. More here.
Question: Which comic books did you collect as a kid?
---
---