THURSDAY, MAY 2, 2013, 2:14 P.M.
Thespians Address Bullying
Sergey Grankin sat on a toilet on a small stage in Mary Cooper's Ferris High School classroom last week. "I'm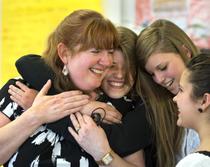 optimistic about vomiting," he said. "If you knew every time you gave me a swirly you were gonna have to go home and change your pants, you'd think twice. It's the power of retaliatory vomiting." Grankin and members of the Ferris drama department were rehearsing a one-act play, "Thank You for Flushing My Head in the Toilet and Other Rarely Used Expressions." The play, along with a student film and a student-written one-act, are part of "Project Hope: Stop the Bullying"/Cindy Hval, SR. More here. (Dan Pelle SR photo: Ferris High School theater arts director Mary Cooper, left, is embraced by students Julia Hassert, Andi Blom and Isabella Trujillo)
Question: What would you do if a child of yours was bullied?
---
---