Fri., May 3, 2013, 5:05 p.m.
A Company Tat For 15% Raise?
Get scarred for life for a little extra cash! That's the tempting offer being floated by New York City's Rapid Realty,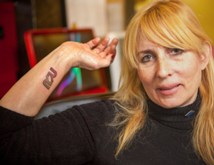 which is offering employees 15 percent raises if they get the company's logo tattooed on their person. Some 40 employees have already done so—either because they love the firm, need the money, or both. "I was like, Why am I throwing my money away when I could get myself from $25,000 to $40,000 for the same amount of work?" Stephanie Barry, who might not understand what 15 percent means, tells CBS News/Tim Nudd, AdWeek. More here. (AP photo: Mayra Segarra, an employee of Rapid Realty NYC, shows off her tattoo)
Question: Would you get a tattoo of your company's logo for a 15 percent raise?
---
---