Fri., May 3, 2013, 4:51 p.m.
NRA Gives Palin Standing Ovation
Sarah Palin said Friday that the elite media would never let a Republican president get away with what Barack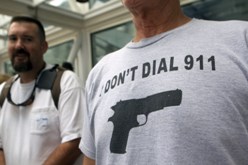 Obama has done in his push for new gun laws. The former Alaska governor recalled that the national press "tore apart" George W. Bush for using "fleeting images" from Sept. 11, 2001, during his 2004 reelection campaign. At the National Rifle Association's annual meeting, Palin slammed Obama for flying the grieving parents of the massacre at Sandy Hook Elementary School on Air Force One and then "making them backdrops" at rallies. "That same media is now the reliable poodle-skirted cheerleader for the president that writes the book on exploiting tragedy," she said, wearing a T-shirt that said "women hunt"/James S. Hohmann, Politico. More here.
Question: Are you attracted to girls who know how to shoot guns?
---
---