Mon., May 6, 2013, 10:52 a.m.
Otter Invites Gun Makers To Relocate
Idaho Gov. Butch Otter has proclaimed May to be "2nd Amendment Protection Month" and is inviting arms and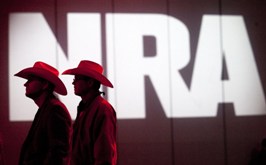 ammunition manufacturers to consider relocating to his state. "The National Rifle Association ranks Idaho as a gun-friendly state whose laws are among the least restrictive in the nation," Otter said in his official proclamation. "The state of Idaho openly embraces companies in the arms and ammunition manufacturing sector to expand or relocate to the state." The governor also sent letters to industry leaders to press his invitation, writing, "In Idaho, we know what 'business friendly' means"/Betsy Russell, SR. More here. (AP photo: NRA members listen to speakers during the NRA Annual Meeting of Members in Houston Saturday)
Question: Are you as eager as Gov. Otter to see gun, ammunition manufacturers re-locate to Idaho? Why? Why not?
---
---