Mon., May 6, 2013, 2:14 p.m.
Out, Out, Damn Dandelion
On her Facebook wall, Colleen O'Brien of KXLY posts: "My husband and I are in an all-out war with dandelions.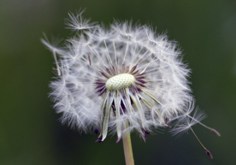 It went from bad to worse overnight in our backyard. Any suggestions?" Which brings to mind my own battle with dandelions. I'm actually ahead of the game somewhat. I have knocked the dandelions down a bit, pulling off the heads before they dry and blow to the wind -- and then hand spraying the foliage with a weed-and-feed killer. However, I have two or three neighbors who seem to be growing a cash crop of dandelions, with no attempt to exterminate them. My yard is sort of a DMZ between the dandelion neighbors and two other neighbors who have green, dandelion-free lawns. So here's the question:
Question: What do you do when your neighbor doesn't seem to care that his yard is loaded with dandelions?
---
---