Mon., May 6, 2013, 11:44 a.m.
Slice: Taking Our Feet For Granted
You've heard, of course, that a journey of a thousand miles begins with a single step. The credit for that fateful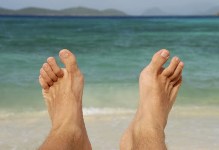 stride usually goes to courage or determination. Fine. But how about a little love for our feet?  Face it. You're probably not going anywhere without them.  Ours is a society obsessed with bodies. We're gaga about cute noses, gravity-defying breasts, bouncy hair, six-pack abs and shapely butts. But the lowly foot gets taken for granted. Maybe that's because our feet seem so far away. Well, except in yoga and Odor Eater extraction contexts. We're up here and they're way down there. Our personal identities are inextricably connected to our faces and heads. Our sexuality's forward base of operations can be found a bit lower. But our feet?/Paul Turner, SR. More here.
Question: Do you take your feet for granted?
---
---