Tue., May 7, 2013, 3:49 p.m.
Bay Views: Seattle PD Going To Dogs
In reading Briefs in this morning's Spokesman-Review, I spit out my coffee as I read where Seattle Mayor Mike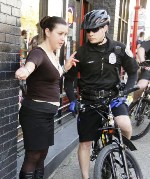 McGinn is lowering standards for new police hires. It seems the mayor doesn't feel his officers adequately represent the average Seattle citizen. Now that Pot is legal, he is going to allow his recruits to more accurately reflect the community standards. Vissible tattoos on the face and neck along with a history of pot smoking no longer will disqualify a police recruit. Several images popped into my head at that point/Herb Huseland, Bay Views. More here. (AP file photo: Seattle police officer responds to report of vandalism)
Question: Do you agree with Herb that the Seattle Police Department shouldn't lower its standards for officers, to reflect general population?
---
---