Tue., May 7, 2013, 8:58 a.m.
Bloomsday Fields Protest Complaints
Bloomsday organizers are struggling to come up with what they could have done differently after dozens of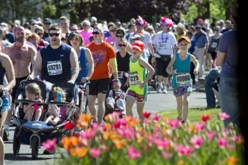 runners on Sunday complained about an anti-abortion protest along the route. Race director Don Kardong said Bloomsday officials had no idea the protest was planned. He got wind of it when, while running the course himself, he passed the group near Riverside Avenue and Government Way two miles into the race. He said he found the signs, which included graphic photographs, distasteful, but "we don't have any control on people putting signage off the course." When he passed it, he said, all was quiet, but several people later reported the protesters were yelling at Bloomsday participants – including the children – as they passed by/Jennifer Pignolet, SR. More here. (SR photo: Dan Pelle)
Question: How can anyone blame this protest, or any other protest along the route, on Bloomsday?
---
---