Tue., May 7, 2013, 10:44 a.m.
How Not To Attract Hummingbirds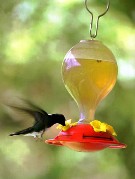 On her Facebook wall, Pecky Cox/As the Lake Churns posts: "I know better than feeding hummingbirds any more with new 'regulations' -- however I do do one feeder in Spring just to welcome our very tired friends back from such a long trip. I put it up a few days ago and NOTHING.. there is this beautiful red rubby (sp?) flying around and NOTHING. I gave up, took feeder in for cleaning and making sure there were no ants or something stopping humms from liking it.. ONLY to notice I had used SALT instead of sugar." (AP file photo)
Question: Do you have bird feeders in your yard?
---
---