Tue., May 7, 2013, 1:03 p.m.
Idaho Living On Minimum Wage
Wages are lower in Idaho than in nearly ever other state. That's often chalked up to Idaho's rural nature and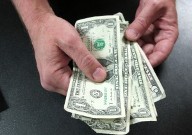 low cost of living. But recently, the state has lost ground. A federal Bureau of Labor Statistics report shows that Idaho has the largest share of workers earning minimum wage in the country. And that share — 7.7 percent — has grown rapidly. All this week, we'll explain the trends that are playing out at the bottom of Idaho's wage scale. Today, we're asking: What is it like to earn minimum wage or close to it in Idaho? It can be difficult to find minimum wage earners who are willing to talk to a reporter. Supervisors at fast food chains and retail establishments turned me down. One worker decided against an interview after his boss threatened his job/Molly Messick, StateImpact. More here.
Question: Have you ever had to make ends meet with a minimum-wage job?
---
---