Tue., May 7, 2013, 12:02 p.m.
Idaho Olympian Also 'Powerful Mom'
Two-time olympic gold medalist Kristin Armstrong is considered one of the top 50 most powerful moms. The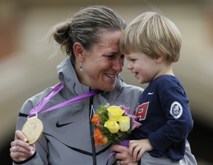 Boise cyclist received the honor in a recent website article. Workingmother.com ranked Armstrong more powerful than Beyonce, katie Couric, Angelina Jolie, and many more. Armstrong is actually ranked third overall -- and is only outpaced by Burberry CEO Angela Ahrendts and Christiane Amanpour, the Chief INternational Correspondent for CNN. As we saw last summer at the London Olympics, Kristin proudly pulled her son Lucas up on the podium with her as she accepted her second career cycling gold medal/KTVB. More here. (AP file photo: Gold medalist Kristin Armstrong celebrates with her son, Lucas at the 2012 Summer Olympics in London)
Question: Would you rank yourself or your mate as a "powerful mom"? Why? Why not?
---
---