I was watching Bloomsday 37 unfold on TV Sunday morning while lolling on my couch eating buttered bagels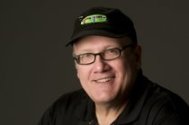 with cream cheese. All of a sudden this warm and tasty feeling about my hometown welled up inside me. "You know," I said to myself between chews, "Spokane's a great place to be fat." I say this as a longtime member of the Spobese. But I find it positively inspiring to live in such an outdoorsy and athletic-minded community that is mostly non-judgmental of its plus-sized and sedentary counterparts. True, this tolerance from the skinny contingent may have more to do with a survival instinct rather than any sense of charity. Look, I read the paper on Monday. I know that "More than 47,000" people participated in the "Bloomsday experience." Bully for all of you/Doug Clark, SR. More here.
Question: Do you envy people who who see outside getting in shape for area runs, like Bloomsday and Ironman Coeur d'Alene? Or do you feel sorry for them?