Tue., May 7, 2013, 8:20 a.m.
Post Falls Car Could Be A Star
Far from drivable, let alone showroom quality, a vintage car is presenting a Post Falls restoration shop with an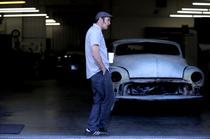 intriguing challenge. The 1950 Mercury convertible may have been modified half a century ago by custom-car legends George Barris or Dick Dean, whose reputations would inflate its value. The previous owner says he has a certificate linking it to Barris, whose status surged after the Batmobile he built for the 1960s TV series sold for $4.6 million at auction in November. The owner of Glenn Vaughn Restoration Services sees reason to proceed cautiously. "I'm very skeptical of stuff like that. But there are some signs that are pointing toward George Barris," Vaughn said last week/Scott Maben, SR. More here. (Kathy Plonka SR photo: Tom White of Glenn Vaughn Restoration Services discusses this classic Mercury street rod)
Question: Have you ever owned a vintage car?
---
---