Wed., May 8, 2013, 8:39 a.m.
Dalton Gardens Deer: Friend Or Foe?
The city of Dalton Gardens wants to know what its residents think about deer. A survey was sent out last week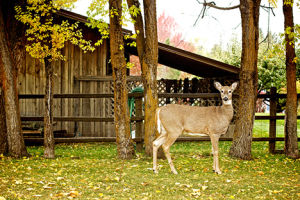 to all 832 households, and included questions like, "Have you noticed an increase in the number of deer in Dalton Gardens in the last three years?" Or, "Have you or anyone you know had a deer-vehicle collision in Dalton Gardens?" In a letter that accompanied the survey, Mayor Dan Franklin said, "While this survey is voluntary, your input is valuable to our decision-making process and we encourage you to return it to City Hall." The survey asks if residents believe deer are causing damage to crops, gardens and landscaping; if they are spreading noxious weeds and diseases to humans and livestock; and if they are attracting predators/David Cole, Coeur d'Alene Press. More here. (Coeur d'Alene Press file photo: Jerome A. Pollos)
Question: Do you consider the urban deer in the area to be welcome sight or nuisance?
---
---