Wed., May 8, 2013, 11:41 a.m.
DFO: Still Missing Snoopy
I'm surprised how much I still miss our beagle, Snoopy, whom we had to put down more than a month ago. I don't miss stepping in the "land minds" in the back yard. Or the occasional peeing in the house, as he got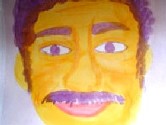 older. Also, I don't miss worrying about the increasing ailments he picked up as he got older. But I do miss the affection that he had for my wife and me. I miss him greeting me at the door -- and how excited he'd get when I took him to the mailbox in the evening. He was so astute about those mailbox walks that we couldn't even mention the word "mail" without him running to the door and jumping against it two or three times. So my wife began to spell "M-A-I-L" which he also deciphered. All I had to do was rattle the mailbox key to get him to come running at any time. At this time, my wife and I are split re: another dog. I'm against. She's for. I enjoy the freedom of being able to take a vacation without worrying re: finding someone to watch the dog. Ditto for long weekends visiting the kids in Portland. I suggested to my wife that we wait for six months before deciding what to do on the dog front. How about you?/DFO.
Question: After losing a dog, when did you decide whether or not to get another one?
---
---