THURSDAY, MAY 9, 2013, 11:06 A.M.
Area Man Oldest Dubai Skydiver
Wind prevented Dick Corbit from skydiving over Hawaii at 80 years old. So he recently jumped at the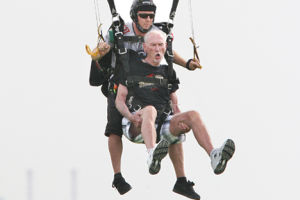 opportunity to free fall at 86 in Dubai. "I told them that I'll be back at 90 -- if I live long enough," said Corbit, who lives in Blanchard. "I'd go again in a minute." Corbit, whom the Lakeland High football field is named after, is now believed to be the oldest person to skydive over Dubai by 13 years. Any hesitation to jump from a plane 13,000 feet in the air? "Never a minute," he said. "I've been married for 60 years so I don't get scared of anything. It didn't bother me at all/Brian Walker, Coeur d'Alene Press. (Courtesy photo: Coeur d'Alene Press)
Question: Have you ever skydived?
---
---