Thu., May 9, 2013, 8:13 a.m.
Bauman Lands Central Kitsap Job
Originally posted 7:45 p.m. Wednesday
Spokesman Laura Rumpler of the Coeur d'Alene School District sent the following news release to Huckleberries Online moments ago:
Coeur d'Alene School District Superintendent Hazel Bauman will leave at the end of June to take the job of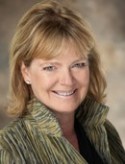 interim superintendent of a school district in Western Washington. Bauman announced Wednesday night she accepted an offer to lead the Central Kitsap School District for one year. With about 10,600 students, the Central Kitsap district is slightly larger than the Coeur d'Alene district. Bauman, 60, has worked for the Coeur d'Alene district 29 years and has been superintendent for nearly five years. Many in the community are speculating that her departure stems from friction with a conservative school board that has filled all five trustee seats in the past two years. But Bauman said 95 percent of her motivation to move on is personal, not professional. She said she has family members in the Seattle area/Scott Maben, SR. More here. And: Full news release here.
Question: What will be Hazel Bauman's legacy?
---
---