Thu., May 9, 2013, 8:16 a.m.
Clark: Gobblers Get My Goat
Of course I knew Spokane had a gang problem. But you never take things like that seriously until the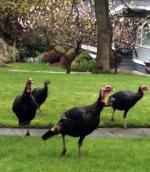 birdbrains show up at your doorstep. They arrived again Tuesday morning, flashing secret signs and showing complete disdain for my rights as a property owner. Worst of all, I'm fairly certain the cops would laugh at me if I dialed 911 and tried to get them to come arrest these turkey trespassers. Weird though it might seem, the Clark homestead on the South Hill has become a magnet lately for a dozen or so of these big brawny birds, who strut through the yard like they pay the taxes. First I thought the visits were cute/Doug Clark, SR. More here. (Photo: Doug Clark)
Question: Anyout out there plagues by wild turkeys?
---
---