Thu., May 9, 2013, 4:37 p.m.
Digger Attacks Yard w/Vengeance
On his Facebook wall, Digger posts: "As Larry the Cable guy would say ... git er done ... and I did ... lawn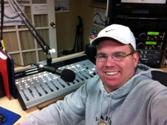 mowed and fertilized with Scotts Weed & Feed; all flowerbeds weeded and treated with roundup to prevent unnecessary weeds; all other weedy areas round-upped; front porch and steps washed down; patio and rear deck cleaned up; back bank mowed and hammock put up. Now, we relax and let Alex take care of the inside of the house."
Question: I almost got into the git-er-done mode last week. But came up short. Too much sunshine and too much yard to sell out 100%. How about you. Have you attacked the yard yet?
---
---