Thu., May 9, 2013, 10:59 a.m.
Extra Virtual Hugs To Nurses Today
It's the occupation that has been voted the most trusted profession in America for 13 of the past 14 years. They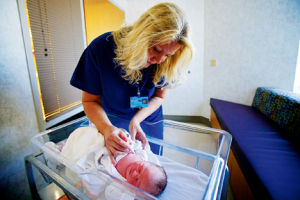 birth us at the start, and vigil us at the end. Hard to imagine where we would be without them, these around-the-clock folks who care for us, look after us and get us well. So Happy Nurses Week, you extraordinary caregivers. You deserve this week, May 6-12, devoted entirely to you. "A huge highlight of my job is knowing I am part of something incredibly special - something amazing like the birth of a baby," said Lisa Vixie Winget, neonatal nurse at Kootenai Health, when asked about the highlights of her job. "I have a passion for babies that started when I was 4 and my sister was born. Since then it's always been babies for me. That's one of the things I love most about nursing, the fact that there's a niche for everyone"/George Kingson, Press. More here. (Jerome A. Pollos CdA Press photo: Lisa Vixie-Winget, takes the vital signs of newborn)
DFO: I have two family members who work as nurses -- daughter-in-law Miss Stephanie & niece Amanda Oliveria. A virtual hug to both of them.
Question: Do you have family members who work as nurses?
---
---