Thu., May 9, 2013, 10:04 a.m.
Hamilton: No Hurry To Replace Hazel
Here's the response Chairman Tom Hamilton of the Coeur d'Alene School Board gave to Huckleberries when asked how the board would go about replacing Hazel Bauman:
"I can't answer that yet as the Board hasn't met to discuss it. We meet tomorrow at noon to start that process. I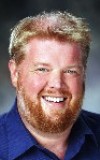 couldn't guess what to expect (since) this is not a circumstance we have faced before. I would imagine that the district will have procedures that have been used before. I'm guessing we will use that as a baseline but likely tweak it. That's all speculation until tomorrow. The district has a solid administrative team that Hazel has worked with for years and based on that I see no need to hurry the process. The business of the district will continue."
Question: Should strong consideration be given to hiring a new superintendent from with the current district administration?
---
---