Thu., May 9, 2013, 8:46 a.m.
Volunteers Make Hospice Go Round
Warm greetings met Broderick Hirai, 20, as he walked down the halls of a North Side nursing home last week. Nurses smiled. Residents reached for his hand. When he entered Bob Inkpen's room, the 94-year-old's face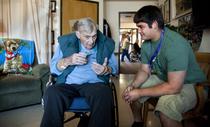 creased with a broad grin. "Hey, Bob. How are you today?" Hirai asked. The Whitworth junior looks like what he is – a defensive lineman for the Pirates football team. But his voice is as gentle as his touch when he takes Inkpen's hand. Hirai is a hospice volunteer. Each week he visits Inkpen. "We sit in his room and talk sports," he said. "If there's a ballgame on, we turn on the TV and watch it. I usually stay around two hours." Dave McDougall, volunteer manager for Hospice of Spokane, said, "Volunteers are the heart of Hospice. Sixty-five percent or more have had a loss in their life – they understand loss. The average volunteer is retired, but we also have young volunteers"/Cindy Hval, SR. More here.
Question: Have you been involved with Hospice in any way?
---
---