Thu., May 9, 2013, 1:05 p.m.
On The Waterfront
Smelled my first lilacs of the season today on my way to the waterfront, along Northwest Boulevard, just north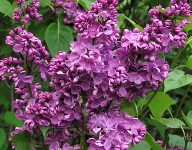 of the Spokesman-Review building -- deep-purple ones. No flower or bud, to me, smells as sweet as a lilac. I have 4 bushes of them in my back yard.They haven't bloomed yet. If I were King of the Universe, lilacs would bloom all spring and summer long, not just for a few weeks in the spring. ... The rest of the daily walk was uneventful. No strange men hiding in bushes. No Mormon girls proselytizing off NIC beach. F-bomb Girl wasn't hanging at the entrance to City Park. But there were a whole lotta bright-white people baking on the shores.
Question: Which spring flower is your favorite?
---
---