Wed., May 15, 2013, 3:16 p.m.
Peterson: No Longer See Silver Lining
I have always been extremely optimistic about Idaho and its future. Several years ago an Idaho journalist wrote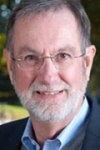 a piece about being so depressed about living in Idaho that he was moving to another state. I was incensed and wrote a strong rebuttal that was picked up by several papers and brought me an offer from a news syndicate to begin writing for them. An offer which I declined. But now I am seeing some disturbing statistics that are leaving me wondering if my optimism is really justifiable. The fact that we lead the nation in the percentage of workers receiving the minimum wage is troubling. In 2011 5% of all of our workers were in minimum wage jobs. By 2012 the number had grown to 7.7%. By way of comparison, the rate for Montana is 1.5%, Oregon 1.1% and Washington 1.7%/Martin Peterson, Ridenbaugh Press. More here.
Question: Do you consider Idaho to be a state of opportunity for rank-and-file residents?
---
---