Thu., May 16, 2013, 8:40 a.m.
CoiNuts: Where Did The Money Go?
Kootenai County Sheriff's Office investigators spent Wednesday combing through the home of CoiNuts owner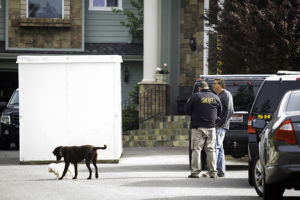 Kevin Mitchell looking for valuables. About a dozen members of the sheriff's office showed up at Mitchell's home, located at 37593 E. Hayden Lake Road, first thing Wednesday morning. A writ of execution signed by a 1st District Court judge cleared the way for detectives to take all gold, silver, coins, jewelry, cash, paintings, sculptures, guns, ammunition and electronics. They also searched the 5-acre property outside the home for valuables. The sheriff's office brought a portable storage unit to Mitchell's home -- which is estimated to have 4,000 to 5,000 square feet of floor space -- and hired a moving company for the day. As his home was being searched, Mitchell, 47, roared off in his black Hummer, which had been seized a couple weeks ago but is now back in his possession/David Cole, Coeur d'Alene Press. More here. (Press photo: Shawn Gust)
Question: Do you know anyone invested with CoiNuts?
---
---