Thu., May 16, 2013, 8:17 a.m.
Joker: Urban Renewal Jobs Pay Low
Joker (re: Idaho Freedom Foundation opposes Shoshone County urban renewal agency): Urban renewal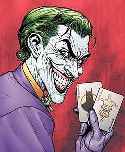 advocates love to tout jobs as proof of urban renewal's success. While there's no denying new jobs have been created, you have to ask yourself – what kind of jobs and what do they pay. Coeur d'Alene Mines had its headquarters in the urban renewal district. The people in those high paying headquarter jobs just left town. NightHawk Radiology, another business located in the urban renewal district left town a few year ago – with its high paying jobs. The two shining examples LCDC holds up as proof of job creation are Riverstone and the US Bank call center. Let's take Riverstone first – most of the businesses in Riverstone pay minimum wage or slightly better, say $9 to 11 an hour. The newest addition will be McDonalds – a company known for paying its workers minimum wage. More below.
Question: Do you consider it a plus/minus that the some/many jobs created by urban renewal efforts are low paying?
Then study US Bank, a call center. The majority of those
jobs pay between $9 and $11 an hour. And don't think the US Bank Center is
going to be here for the long haul. If a
better deal comes along for them – they're out of here.
If you're looking to Buck Knives in Post Falls as the great
example – don't. The company complained after it moved here that it had to pay
people more than the minimum wage. Most
of their workers make between $9 and $11
an hour.
Having a job is a great thing. But not being able to survive
is not. Most of the progressives on this blog rip the Republicans and the
businessmen in this state for its low wages. People on this blog bash Wal-Mart
as the great evil corporation, but the reason it's success is that people
making so little money have to shop there.
Don't you people see that when you support urban renewal –
you supporting an economic culture of wage suppression and corporate greed?
Urban renewal is touted as the great economic engine -- It's
not. You've been swindled by people selling a product. Urban renewal helps
developers (wealth people) make more money.
---
---