Thu., May 16, 2013, 9:06 a.m.
Teaming Up To Restore Watershed
The sun-dappled water glistened in the late morning light and so did the foreheads of the teens who planted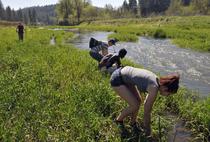 trees along Hangman Creek last week. While some kids learn about sustainability in air-conditioned classrooms, students from M.E.A.D. put classroom knowledge to practical use thanks to a partnership with the Lands Council and help from Spokane Teachers Credit Union. For every member who switches from paper statements to e-statements until June 30, STCU will donate money to plant one tree along Deep Creek, Coulee Creek or Hangman Creek/Cindy Hval, SR. More here. (Jesse Tinsley SR photo: From the foreground, Amanda Parker, Aleu Aleu and Isaiah Mitchell poke cuttings of willow branches into the muddy banks of Hangman Creek in Valleyford on May 7)
Question: Have you ever planted a tree? When? Where? Why?
---
---