Thu., May 16, 2013, 10:06 a.m.
Wooden Lady Lola Ready To Sail
"To Lady Lola," went the happy toast on Wednesday at Hagadone Marina. The occasion was a celebration of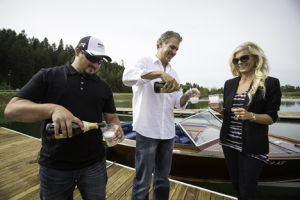 the launch of the wooden tender formerly belonging to the 205-foot Lady Lola. A tender is a small boat that ferries passengers between ship and shore when a ship is anchored in a harbor. The tender's new owners, Rob Newell of Black Hawk Capital Managers and Jon Aune of Whitehawk LLC, were thrilled with their purchase of the 28-foot, torpedo-style craft - especially the fact that it has put in at ports from Gibraltar to Galapagos/George Kingson, Coeur d'Alene Press. More here. (Shawn Gust Coeur d'Alene Press photo: Jon Aune, far left, and Rob Newell, alongside his wife Martha, pour champagne Wednesday in celebration of their recent joint purchase of Lady Lola)
Question: Anyone know what happened to the 205-foot Lady Lola?
---
---