Fri., May 17, 2013, 1:16 p.m.
Minnick To Lobby For Gun Control
Former Idaho Democratic Congressman Walt Minnick has been hired by his former colleague Gabrielle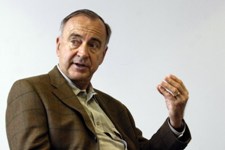 Giffords' to assist her effort to expand background checks on gun purchases. Minnick's Washington, D.C., firm is Majority Group LLC, which he founded in 2011 after losing his first re-election bid to GOP challenger and now-Rep. Raul Labrador. Minnick and two others from Majority Group registered as lobbyists effective March 31 and filed their disclosure report April 12 as the Senate was preparing to vote on background checks, which were ultimately rejected. The filing is available on the Sunlight Foundation website. Minnick has had his differences with the NRA, getting a "D+" grade when he defeated Republican Bill Sali in 2008. Two years later, the NRA boosted his grade to a "B+," while Labrador got an "A"/Dan Popkey, Idaho Statesman. More here. (AP file photo, of Walt Minnick)
Question: Can't trust those dern Democrats with guns, can you?
---
---