Fri., May 17, 2013, 1:11 p.m.
Wayne Fights Kootenai County Ticket
It seems I offended a great number of people with last week's column regarding my speeding ticket that a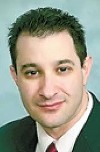 quick follow-up appears appropriate. First, as an update, I entered a plea of "not guilty" a few days ago. It seemed problematic for me to admit I violated Idaho Code 49-654(2)(E) for excessive speeding when that statute doesn't exist. So I didn't. Based on the comments, I know some people will be offended by my decision. Oh well. We all learn in fourth grade Civics that our system of government is comprised of three branches: legislative, judicial and executive. The legislative branch writes the law. The judiciary adjudicates the law and the executive carries out the law. The legislative process involves lawmakers agreeing on public policy and asking the executive branch to consent to those policy proposals by signing their legislation into law/Wayne Hoffman, Idaho Freedom Foundation. More here.
Question: I pleaded not guilty -- and lost -- to the only speeding ticket I ever received, when I was 18 years old. Have you ever fought a traffic violation?
---
---