Mon., May 20, 2013, 11:35 a.m.
Why Do They Live In Tornado Alleys?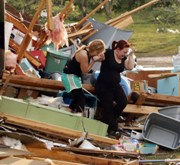 A Facebook Friend asks: "Why do people choose to live in tornado areas where their whole life's work can be wiped out with one monster storm and even lose their life and/or lose their livestock and pets then have to rebuild? Do insurance companies keep insuring them? Whole towns and neighborhoods can be wiped off the map in a matter of minutes and scenes on TV of houses looking like splintered match sticks have convinced me that is not the place to venture. That does not sound like anyplace I would want to visit much less live." (AP photo: Alli Christian, left, helps Jessica Wilkinson as she looks for her dog Bella after Wilkinson returned to find her tornado-destroyed home in Norman, Okla., on Sunday)
Question: Can you name a place in the United States that you absolutely would not live?
---
---