Tue., May 21, 2013, 2:41 p.m.
Andrus Calls Risch 'Obstructionist'
Former Democratic Idaho Gov. Cecil Andrus called Republican Sen. Jim Risch an "obstructionist" for stopping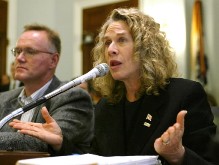 Republican Rep. Mike Simpson's Boulder-White Clouds wilderness bill. The two men fought regularly when Risch was Idaho Senate Pro Tem and Andrus was governor in the 1980s. So Andrus got personal when he chided Risch for withdrawing his support for Simpson's bill, describing Risch as "this little short guy" who stopped Simpson's Central Idaho Economic Development and Recreation Act from getting out of the Senate. "I apologize, not for what I said previously, but that I said he was short," Andrus said. Because of Risch, he has supported having President Obama designate the 500,000-acre Boulder-White Clouds and Jerry Peak areas as a national monument/Rocky Barker, Idaho Statesman. More here. (AP file photo: Singer and environmental activist Carole King testifies during 2005 Boulder-White Clouds hearings in Washington, D.C.)
Question: Should Boulder-White Clouds be designated as a wilderness area?
---
---