Tue., May 21, 2013, 9:31 a.m.
Nonini Sends Out Endorsement Letter
State Sen. Bob Nonini, R-Coeur d'Alene, poked his nose into the Post Falls School Board races at the last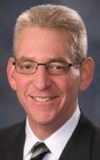 moment by authoring a letter in favor of two challengers to the incumbents. Predictably, Nonini favors the archconservative candidates in the race and doesn't even mention the incumbents who have given Post Falls years of public service. One paragraph, however, stands out as over-the-top, even for Nonini: "I have had many opportunities to meet with their opponents over the eyars and one thing has become apparent. Their only concern is the teacher's union and keeping the union members happy without any regard for the residents funding Post Falls public education." Seriously, that's the only concern that Dave Paul and Julie Hunt have had? Not the kids? Ever? This from an individual who, as a former House Education Committee chairman was rebuked at the polls when Idaho voters rejected Propositions 1-3, which he supported wholeheartedly. And which would have devastated Idaho education? Bad form, Bob. Bad form. Full Nonini letter here.
Thoughts?
---
---