Thu., May 23, 2013, 2:07 p.m.
Otter: Beware Of Fox News
A reflective Gov. Butch Otter says depending on news from sources that one agrees with can complicate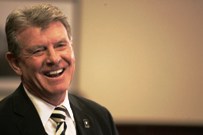 problem solving, citing a dysfunctional Congress, the state-run health exchange under Obamacare and the "Common Core" debate as examples. "My primary portal for looking into the world is Fox News," Otter said. "So I get a certain contamination — maybe 'contamination' is the wrong word — get a certain feeling of relief that they agree with my conservative philosophy." Otter said the practice of seeking news from outlets with an ideological slant also applies to the left. In recent months, Otter has led the enactment of the state-run exchange and supported adoption of Common Core education standards over objections of Fox News loyalists in the Legislature and the public/Dan Popkey, Idaho Statesman. More here. (AP file photo)
Question: Do you rely on a news source that you agree with politically?
---
---