Thu., May 23, 2013, 1:43 p.m.
Richert: Nonini Remains Unrepentant
Politics is a "full-contact sport," Republican state Sen. Bob Nonini told his hometown Coeur d'Alene Press this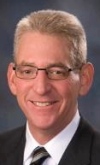 week. And at least he's consistent in applying this principle. Last spring, when Nonini was seeking to move from the House to the Senate, his political action committee poured nearly $15,000 into campaigns targeting six GOP incumbents, including Senate Finance Committee Chairman Dean Cameron of Rupert and Vice Chairwoman Shawn Keough of Sandpoint. All six candidates won. If Nonini was chastened by the experience — or by the awkwardness of serving alongside fellow Republicans he targeted for defeat a few months earlier — there's no visible sign of it/Kevin Richert, TheEDge (IdahoEd News). More here.
Thoughts?
---
---