Fri., May 24, 2013, 4:27 p.m.
Reflections Of The BikeCrash Kid
It's National Bike Month, which got me thinking about a neighbor kid from my childhood. We grew up in the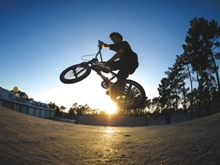 woods outside Sandpoint, and there weren't many other kids around, so we had to make our own fun. Most of that revolved around bikes, and my brother and I were pretty tame on two wheels — the most daring feats involving what seemed like precipitous jumps, but which were probably no higher than a foot off the ground. Well, this neighbor of mine, his idea of a good time was to ride his beat-up old Huffy to the top of a high hill on our dirt road, teeter at the top and pedal as furiously as he could to the bottom. At the magic point, just before the hill started to level off and his speed was at its greatest, this kid would let go of the handlebars and push himself off the seat — hanging in midair for a frozen moment as the bike continued racing, suddenly riderless, into the ditch/Zach Hagadone, Inlander. More here. (Inlander photo)
Question: What is the most daring thing that you've done on a bike?
---
---