Fri., May 24, 2013, 10:31 a.m.
Trustee Hunt: You Can't Hide, Nonini
Senator Bob Nonini is still a liar! In our homes and schools we teach our children accountability for their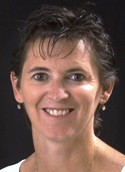 actions, so why can't we teach cowardly politicians accountability in front of an impartial judge and in the polling booths? It is Bob Nonini's signature on the "From the Desk of Senator Bob Nonini" slanderous letter that was sent out right before the Post Falls School Board election. Now he claims he didn't write the letter, but agrees with its content. WHAT? How cowardly is that? TAKE RESPONSIBILITY FOR YOUR ACTIONS! Whether it was Nonini's "rubber stamp" signature on the letter containing the slanders does not make them true. By the way, why would the Reagan Republicans have an Idaho State Senator's rubber stamp and letterhead anyway? Is that legal or ethical? Or did the Regan Republicans forge his letterhead and signature?/Post Falls Trustee Julie Hunt (pictured). More here.
Question: Has Nonini and the Reagan Republican leaders stirred up a hornet's nest in their own back yard?
---
---