Fri., May 24, 2013, 8:42 a.m.
Ward: Teachers Didn't Sway Elections
For the Kootenai County Reagan Republicans, Tuesday's school board elections were all about education -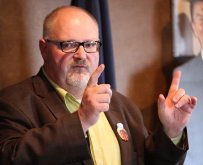 and they were the students. "On election night I was totally confused," Jeff Ward, treasurer of the Republican group, told about 30 of his members during a Thursday debriefing at Fedora Pub and Grille. "Ann (Seddon) and Brent's (Regan) races were well run, but that didn't achieve a victory." Ward said he spent Wednesday in a foul mood until his wife told him to snap out of it, and then it came to him. "It wasn't until late at night that it finally began to gel," he said, explaining how he has analyzed the absentee ballots. "We had about 500 to 700 new people enter the race and they showed up in very conservative precincts"/Jeff Selle, Coeur d'Alene Press. More here. (Duane Rasmussen photo: Jeff Ward at Reagan Republicans luncheon Thursday)
Question: Ward goes on to say that the opposition "exploited" neighbors talking to neighbors in rejecting Reagan Republican candidates. Exploited?
---
---