Tue., May 28, 2013, 1:19 p.m.
Riverstone McDonalds?
I've always had the theory that you can accurately determine an area's population growth rate and level of prosperity by how many Macdonald's exist there. The first CdA area McDonalds appeared on former farmland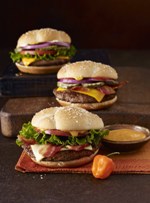 on Appleway at some point in the early-mid 1970's, when Appleway was basically considered to be somewhere out in the boonies on your way to Hayden Lake. Actually, things had picking up a bit in that part of town for a little while with the opening of Cd'A's tiny first indoor shopping mall a few years earlier, but I don't think Appleway was even paved until a couple of years prior. Flash forward to 1993, and the significantly larger (but still not so huge) Silver Lake Mall has been been a few miles north of Appleway on Hanley Ave in an area that was once again considered to be the outer edge of civilization for those living close to downtown. McDonald's is to shopping malls as flies are to a fresh potato salad at a summer picnic/OrangeTV, Get Out! North Idaho. More here. (AP file photo of McDonald's quarter pounders)
Question: Are you looking forward to having a McDonalds at the entrance to Riverstone?
---
---