Wed., May 29, 2013, 2:40 p.m.
Sarah Palin's Biggest Fan
The closest Tyler Weyer has been to Sarah Palin was dressing as her — red blouse, auburn wig, rimless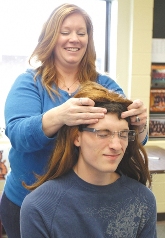 glasses and all. About a month ago, before his classmates, teachers, principal and mother, the 17-year-old senior wobbled on high heels, purchased from the "11 plus" shelf at Value Village in Spokane. He towered over a blonde eighth-grade girl in a pantsuit on the Republic High School stage as they discussed the role of sexism in the 2008 presidential campaign. "So please," implored Tyler to the audience, "Stop photoshopping my head on sexy bikini photos." "Stop saying I have cankles," the eighth-grader deadpanned/Deanna Pan, Inlander. More here. (Young Kwak's Inlander photo: Republic High School teacher Liz Bremner dolls up Tyler Weyer, who played Sarah Palin for a school event)
Question: Name someone whom you are a big fan of?
---
---