Fri., May 31, 2013, 8:31 a.m.
Sheriff Undecided On Scout Charter
Ben Wolfinger, the sheriff of Kootenai County, said he has not decided to keep or drop the Boy Scout troop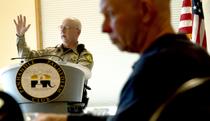 chartered by the sheriff's office. But he said his Christian faith and what the Bible says about homosexuality are weighing heavily on him as he struggles with the recent decision by the Boy Scouts of America to end the organization's membership ban on gay youth. "I don't think I can make any decision in my life without bringing my faith into it," Wolfinger, an elder in the large, evangelical Real Life Ministries church, said in an interview Thursday. "My faith influences what I do every day." Wolfinger indicated last week he was compelled to drop the charter with Troop 911, saying it would be inappropriate for the sheriff's office to continue the association because Idaho's "crimes against nature" statute prohibits sodomy/Scott Maben, SR. More here. (SR file photo of Sheriff Wolfinger in February)
Question: What would you tell the sheriff to consider as he reaches a decision re: the Boy Scout charter?
---
---