Mon., Nov. 4, 2013, 2:25 p.m.
Suspicious Letter Leads To Custody
Coeur d'Alene Police detectives took a 40 year-old male into protective custody in a case involving a suspicious package left at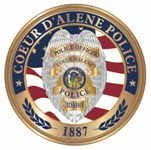 Congressman Raul Labrador's office this morning. The male whose name will not be released was interviewed by detectives, who decided he needed mental attention. The male was also involved in inappropriate contact with a 29 year-old female who works for the Coeur d'Alene Library. The female filed a stalking report on Nov. 1. The package left at the congressman's office was examined by the Spokane Police bomb squad. The package contained a lengthy letter and some candy suckers. The male copied and mailed several people the same letter. The rambling letter and expressed frustration involving a parking ticket. Some of the persons who received copies of the letter work for various government offices at the local, state, and federal level. It does not appear Congressman Labrador was singled out for contact by the male. The package left for him was bulky and suspicious. Officers advised nearby offices to evacuate until the situation was resolved/Sgt. Christie Wood, Coeur d'Alene Police Department.
---
---