Mon., Nov. 4, 2013, 8:53 a.m.
Tyler: Time For Churches To Rise Up
On the Reagan Republican Facebook wall, President Jeff Tyler has posted a copy of that controversial Truth North Idaho scorecard (in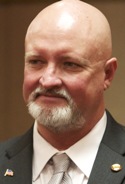 support of Mary Souza and three allies for the Coeur d'Alene City Council. Also, he calls on pastors to forget about tax write-offs and get involved in politics: "That is why when in Lexington where 'the shot heard round the world' was heard, the first Minutemen there were led by a Pastor and his Deacon. Before there was TV, Internet and Facebook all we had was the church pulpit for information in our communities. I pray today that our pastors will put God before a 'tax write off' and work to restore our nation through the courageous acts of those founding churches to help us once again be 'Under God.'" (File photo: Duane Rasmussen)
Question: Do you want to see the churches actively involved in politics?
---
---