Tue., Nov. 5, 2013, 12:01 p.m.
A Mystery Behind A Patron's Receipt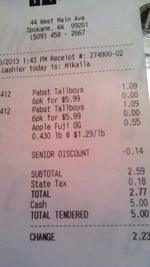 On her Facebook wall, Cindy posts a receipt (inset) with this message: "For your consideration. This receipt just slipped out of my library book (The Unchangeable Spots of Leopards). The receipt lists 2 Papst Tallboys and a Fuji apple purchased at Main Market at 1:43 on a July afternoon by someone who received the senior discount. Is my mystery reader a man or woman? Employed, unemployed, retired, married, divorced, widowed?Imagine if you will, the story behind this receipt....
Question: What do you think is the back story re: the person behind the receipt?
---
---