Wed., Nov. 6, 2013, 9:01 a.m.
'Obama Girl' Stomps 'Patriot Boy'
Amy Evans, Kiki Miller and incumbent Woody McEvers all cruised to victory by comfortable margins Tuesday night for Coeur d'Alene city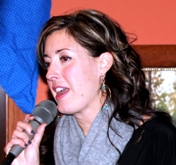 council. "Having the citizens have the trust in me and the other candidates who are elected tonight means the world," said Evans, who won council seat No. 2 by defeating Chris Fillios. "I look forward to listening to the citizens and working on projects that come across the council's desk." Evans won 58 percent of the vote, taking 4,799 votes to Fillios' 3,464. To the other candidates, she said, "Thank you for putting yourself out there and investing yourself in the city." "We came up way short," Fillios said. "It was a slate win and a slate loss... I think the people just bought a different message." He congratulated Evans, but said the result of the election will likely mean more taxes and spending, and more government/David Cole, Coeur d'Alene Press. More here. (Duane Rasmussen photo at Fort Ground Grill celebration Tuesday night)
Question: Reagan Republicans and Amy's opponent spent thousands of dollars trying to tie her to Barack Obama (yes, I know this is silly) and Democrats. What does it say to you that she received the most votes in the 2013 Coeur d'Alene city election?
---
---