Thu., Nov. 7, 2013, 1:33 p.m.
Dennis: Death Of JFK's Death
America deeply mourned Abraham Lincoln's death in 1865...and for years after. As well, it mourned John Kennedy's death for many years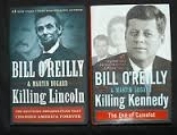 post November 22nd, 1963. Some people say they still mourn JFK's death, but I'm not so sure. I wonder if they're just curious. Books and movie tickets of their deaths still sell, that's accurate. (Bill O'Reilly's almost made a cottage industry of both Presidents' deaths.) His National Geographic film will soon be on the airwaves. The film, Parkland will add to the public's interest in just a few days, re JFK's last minutes alive and the intersection of people's lives who were with him when death came to him. Why is it so? Why do these two Presidents' deaths have their roots so deeply in the soil of American political thought?/Dennis Mansfield. More here.
Question: Are you younger Berry Pickers curious why JFK's assassination has such a hold on us oldtimers?
---
---