Fri., Nov. 8, 2013, 2:12 p.m.
Linda's 'Boob Blog' Becomes Book
Linda Ball, a former SR colleague and Coeur d'Alene Press reporter, has written a book from her blog re: fighting breast cancer. She turned to HucksOnline for promotion. I'll let her explain the book in her own words:
"I always thought I'd just curl up and die if I was ever diagnosed with cancer or any other life-threatening disease. But I surprised myself. I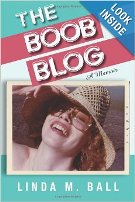 had more strength than I knew I had. I decided I wanted to live. Cancer is a bitch. My ability to find humor even in the lowest points of my life, and my determination to deal with the disease with as much grace as possible, got me through. Many cancer patients, I learned, shut themselves off from everything — work, play, love, sex. But I didn't. Yes, I felt horrible for many months of my journey, but I still forged on. I exercised, I went to rock concerts, I was at the helm of a 161-foot sailboat and I even made love to a man I treasured, when I had one breast. This is my story about a girl, a woman, going through the horror of breast cancer, yet trying to remain among the living." Amazon.com site for Linda's book here.
DFO: I'm reposting this one again because I forgot to provide the Amazon.com link previously.
Question: Have you or someone you loved survived breast cancer?
---
---