Fri., Nov. 8, 2013, 1:02 p.m.
Op-Ed: Boot Camp Of Small Unit Life
My son, Colin Mansfield will graduate from the United States Military Academy at West Point in May 2014 and be sworn into the US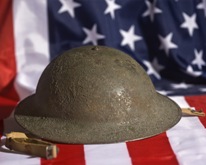 Army as an officer. But, as with all who serve or have served, it began years earlier in an age-old tradition called boot camp - where all new recruits have their civilian parts disassembled – and their newly issued G.I. parts assembled. Colin went through boot camp. He learned to discard his own desires and become an anonymous part of a small unit. For many civilians, such words conjure up a sense of understanding. Yet it's in error that civilians believe they understand. It's impossible to gain an understanding of military small unit tactics learned through boot camp, if one has never gone through it. Yet, do not for a minute think that this lessens the sincerity of those civilians who applaud from the sidelines. They are not alone/Dennis Mansfield. More here. (Photo: Kyle Morgan)
Question: Do you remember boot camp?
---
---